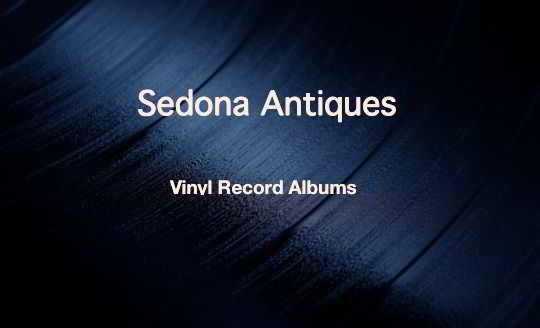 No Auctions. No Waiting. No Disappointment.
Just Low Prices All The Time
Bundle and Save!
Each additional record ships for only 99 cents.
| | | | |
| --- | --- | --- | --- |
| Introducing The Beatles | Elvis: Double Trouble | Lou Reed: RocknRoll | Mickey Mouse: Splash Dance |
| Led Zeppelin: Led Zeppelin | Jimi Hendrix: Are You Experienced | Pink Floyd: Dark Side Of The Moon | The Beach Boys: Shut Down |
| Led Zeppelin: Houses of the Holy | Jimi Hendrix: Axis Bold As Love | Queen: The Game | Mickey Mouse: Merry Christmas |
| Love: Da Capo | AC/DC: Back In Black | Aerosmith: Greatest Hits | Big Brother: Cheap Thrills |
Search Our Store
Sedona Antiques is an established internet retailer located in Sedona, Arizona. We have been selling online since 1999. Our inventory includes over 75,000 items for immediate shipment and features rare and collectible vinyl record albums- LP's - 12 inch singles - CD singles - CD albums. Items are graded cover first, then media. We package and ship our vinyl records with the greatest care, using extra-thick packaging to ensure that your rare and collectible vinyl records arrive in pristine condition. Every record is professionally cleaned. Records are removed from the album cover to avoid damage and shipped in an inner paper sleeve. The record and album cover are then placed in a 3 mil plastic sleeve, carefully placed and packed in a cardboard record mailer. We guarantee every item we sell to be as listed. You can always expect prompt courteous service and accurate grading at Sedona Antiques. We value our customers and have many repeat customers.
World's Largest Selection Of Antique

Click here for information on grading of vinyl records 

Not finding what you are looking for?

Send us your want list of vinyl records, old marbles,

antiques and collectibles
Copyright © 1999-2019 
Sedona Antiques
. All Rights Reserved. No part of this website, images, graphics, text, or code may be reproduced without the express written permission of Sedona Antiques. Permission is granted to link to this website.
Web site designed and maintained by High Desert Design Studios